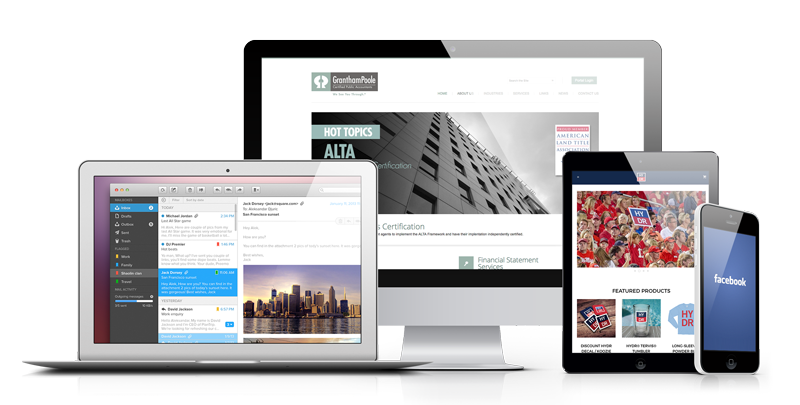 We guarantee success with our digital marketing services.
If you want to grow your company, we create a step-by-step process for success. If you have a product or service that people need, the results will absolutely come.
Below are the elements of your digital marketing plan that we can help you maximize. These are the components of a digital marketing strategy that will be the foundation of your online efforts.
A Proper Website
Your company website should serve as the hub for your company online. This 24/7 marketing tool is always available to answer potential customer questions. From a simple question like "what is your phone number?" all the way to a more robust explanation of your company culture and ideology.
Social Media
Social media is "word of mouth" and the words carry more weight than ever. Over the years, we have helped clients increase their online exposure and achieve an unbelievable return on their investment. After the initial discovery and goal-setting meeting, we will either provide you with the tools you need or we can sit in the driver seat for you, taking control of your social media efforts. We will consistently implement our pre-agreed-upon strategic plan to achieve the results you seek.
Email Marketing
Do you have a list of customer emails? Do you ever email them? Email remains one of the most powerful digital marketing tools available. Email marketing is especially reliable with people you have a relationship with. The occasional email "touch" in your marketing mix serves to remind customers that you are ready to help them.
SEO (Search Engine Optimization)
Being found when people search is highly valuable. The goal that search engines have is to answer questions and provide solutions. You want your website to provide those answers. SEO is a combination of art and science. There are no 100% guarantees for winning the top spot on Google without paying for it, but there are very real strategies for returning for certain searches. Let us walk you through what we can do for your company.
Online Advertising
Using powerful online advertising tools is a must for your marketing mix. The good news is that you decide where and how you want to be seen, and you decide how much money you are willing to spend. Often people online are raising their hands and asking for help, and you want to be there to help them. The best news is that digital advertising is measurable through analytics. You will know if your investment is paying off, and to what degree.
Analytics
Implementing a strong analytics package is paramount. You should know if your digital marketing efforts are giving you a return on your investment. Analytics allows us to make sure that we don't spend any additional dollars chasing ghosts online. We can see what is effective and double down on that. If you are not measuring your performance then you are flying blind, which we can all agree is not a great idea!
Consulting
We offer half and whole-day consulting sessions. First, we meet and determine your needs. Then, we set a strategy for digital marketing success. In the end, we deliver an actionable report that your company can take and implement.
Our Digital Marketing System
Clearly define the target and craft a compelling message.
Enhance your website to further your message.
Make sure your company is easily found on search engines.
Communicate your company's value on social media.
Use robust online and social advertising tools like Google Adwords and Facebook.
Create a communication funnel.
Follow up.
Dazzle your customers.
Analyze, modify, enhance, repeat.
Why do most companies fail?
Several reasons. Here are some big ones:
Fear of change.
No follow-through.
They don't give it time to work.
Companies don't create measurable results.